Top 7 Airshows in Canada and the US to Attend This Summer
The summer means more free time to get out and explore, and although you could (and should!) head to the beach, lake, and parks this season, adding an airshow to your itinerary will provide a different type of memory. So take the family to see planes up close, meet pilots, and see jaw-dropping aerobatics at airshows in Canada and the US. From death-defying stunts to seeing patterns of white smoke, here are where some of the best airshows in the US and Canada are this summer.

Airshows in Canada
Cold Lake Air Show
Save the dates of July 16 and 17 for the Cold Lake Air Show, which features several flight teams, including the USAF F-22 Raptor Demonstration Team. The theme of the 2022 airshow is to honor all of the frontline heroes that have served faithfully. This Alberta show includes a parachuting team too. A beer garden and kids' section are also on hand to add a bit of variety on the ground. To keep up with events, you can download the airshow's mobile app.
Abbotsford International Airshow
Whether you're an avid fan or have never seen a plane-centric show, there's one overarching reason to head to the Abbotsford International Airshow: It's celebrating its 60th anniversary year. Grab the family, put on a little sunscreen, and head to one of the best airshows in Canada happening from August 5-7. Aerobatics is at the helm of the Abbotsford International Airshow, so get ready to look up into the sky and be amazed, especially by the CF Snowbirds, one of the headlining acts.
Air Show Atlantic
After a two-year hiatus, the Air Show Atlantic is once again delighting onlookers with aerobatics. Head to Delbert, Nova Scotia, on August 27 and 28 to view popular air teams perform jaw-dropping feats. This year, folks can either walk through the many air displays or enjoy driving through the fairgrounds in their vehicle for a socially-distanced option. If you own a plane, you can also attend this event as a fly-in spectator, but be sure to seek permission beforehand.
Canadian International Air Show
The Canadian International Air Show in Toronto takes place over Lake Ontario, adding an extra element of beauty and excitement for onlookers. This show also offers unique opportunities, such as meet and greets with the performers and a narration that you can live stream from your device. The famous Canadian Forces Snowbirds are also making an appearance, so save the dates of September 3-5 to attend.
SkyDrive (presented by Airshow London)
Although the name should give a hint, SkyDrive is an event where attendees can use their car to view the airshow. Load up your convertible, take the sides off your jeep, or drive the pickup to have transportation and viewing seats all in one. This event takes place September 9-11 in London, Ontario, and features the USAF F-22 Raptor Demo Team, the CF-18 Hornet Demo Team, and — of course — the CAF Snowbirds.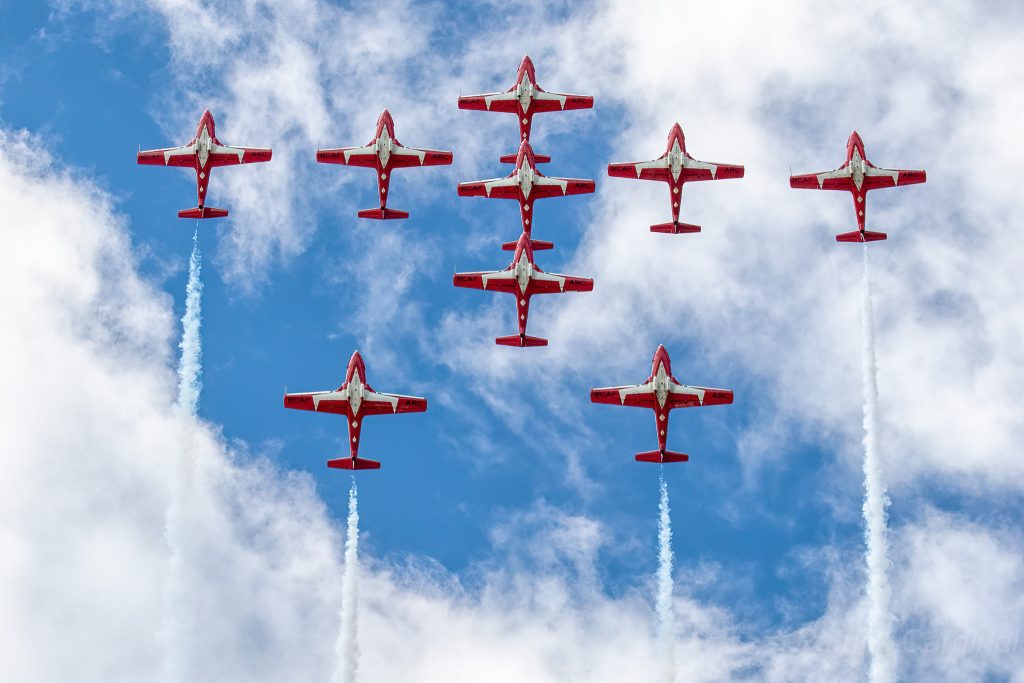 Airshows in the US
Oregon International Air Show
If you're a fan of the Thunderbirds, be sure to make plans to attend the Oregon International Air Show. This airshow has been supporting various local charities since 1988, so you can have three days of entertainment while knowing that you're doing good in the local community. The Oregon show is also a really popular option and sees over 100,000 visitors each year. Save the dates of August 19-21 to get in on all of the action.
Wings Over Houston
Although it's a bit later in the season — October 29 and 30 — Wings Over Houston is well worth the wait. See the high-flying antics of the US Navy's Blue Angels, hold your breath as you watch the Re/Max Skydiving Team, and tap your toes to the beat as Patrick McAlee flies in twists and turns set to music. Texas knows how to really do things big, and this Houston airshow is no exception.