Friday Night Drone Show
The 2022 Abbotsford International Airshow's Friday Twilight Show will feature one of the most modern aerial performance available today – a drone show! "Drone Swarm" shows are the newest performance multimedia trend in the world and have been features of major global events such as the Olympic Games, Super Bowl, World Cup and more. The science and technology behind this exciting movement has created curiosity and wonder across the entertainment industry. Where cutting-edge technology meets the night sky, creativity and story-telling opportunities are endless.
Done shows are performed by a synchronized group of drones, illuminated with multi-colour LED lights and choreographed by software to create shapes and animations in the sky. Almost any image can be created by the computer programming and swarms can range in size from a few dozen to thousands.
Safety precautions are also built into the drone swarm programming. The same GPS programming that allows the drone swarm to create shapes and animations also establishes multiple, redundant "geo-fences" that restrict where the drones can fly. Any drone that reaches a geo-fence perimeter automatically enters an immediate landing protocol.
Drone shows also offer a unique, eco-friendly change from conventional air show performances, producing virtually zero noise and no carbon emissions.
Produced by North Star Drone Shows out of Toronto, Ontario, the Abbotsford International Airshow's drone show will tell the 60-year history of the event and feature famous moments and fan-favourites brought back to life in the Fraser Valley skies.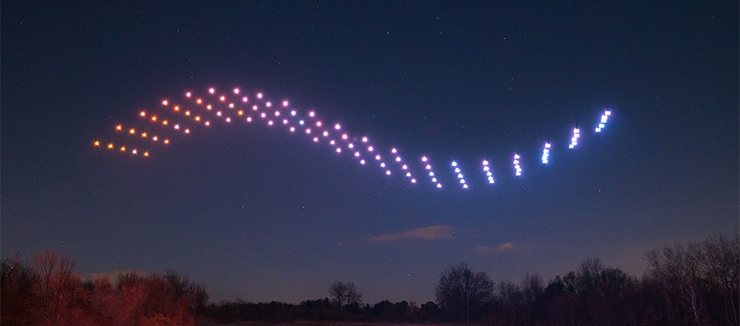 Don't miss your opportunity to see this rare and modern display!